Running prostheses for recreational athletes and competitive runners
Sport knee joint 3S80 and carbon spring feet Runner and Sprinter
---
---
Benefits at a glance
Runner
Whether jogging or sprinting, you can take full advantage of your performance potential with the Runner.
Because it's easy to use, the Runner is suitable for athletes who have little running experience or training and who want to start jogging. Apart from supporting beginners, the Runner offers excellent performance characteristics for competitive athletes, as well.
The feet of the Runner family feature a resilient, lightweight carbon spring, which provides a high level of propulsion and enhanced stability when turning corners. The dynamic response and spring stiffness of the prosthesis can be adapted to your individual needs and your own fitness level.
Sprinter
The resilient Sprinter 1E90 carbon fibre spring foot is especially well suited for running sports and the long jump. Ambitious recreational and professional athletes with a transtibial amputation particularly benefit from the excellent energy return.
Runner junior
Children can be fitted with a sport prosthesis as well. In addition to participation in physical education at school, a sport prosthesis supports child development and allows children to experience the joy of movement in their social environment.
The sport knee 3S80=1 with low-viscosity oil (as a version of the 3S80) is especially suitable for children who benefit from lower motion resistances in the swing phase. Together with the Runner junior 1E93, which offers the same advantages as the adult version, the knee joint represents an optimal combination.
Optimum swing phase
The sport knee joint 3S80 uses a modified form of the rotation hydraulics patented by Ottobock. As a result, it features a special swing phase control that is optimally adapted to running.
Suitable for high loads
High demands are placed on a sport prosthesis. It has to be sturdy, yet also lightweight and compact. The knee joint and carbon fibre springs withstand high loads because the forces acting on a prosthesis are greater during running than during walking.
Stretching and warming up
A thorough warm-up is important before sports. For many athletes, stretching is part of the daily routine, whether to protect their muscles or just to relax. This is why the sport knee joint 3S80 is equipped with an integrated lock which you can easily operate by hand.
FAQ
Running clinics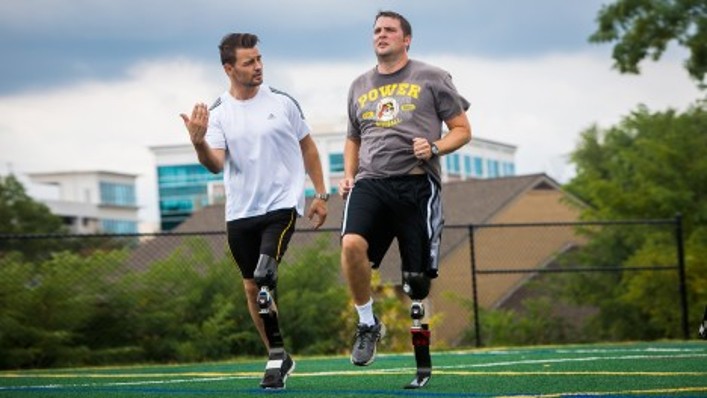 Ottobock Running Clinics are a unique opportunity for people with an above-knee amputation to enjoy learning to run or improving their skills with expert tuition from Ottobock ambassador Heinrich Popow.
---
---